Commercial Awnings
We offer the best quality Awnings at the most competitive rates for all your indoor and outdoor needs. These Awnings are specially designed to enhance the elegance, charm and value of any home. Made with immaculate attention to every detail, our Awnings are easy to install and require minimum maintenance. The broad range of Awnings offered by us include Terrace Awnings, Bull Nose Awnings, Window Awnings, Drop Arm Awnings, Fixed Awnings and Component.
Retractable & Fixed
Manual & Motorized
Waterproof & Fire Retardant
Double Side Coated & Single Side Coated
Plain Fabric & Stripes Fabric
PVC Fabric & Acrylic Fabric
Imported & Indian Fabric

Commercial Awnings
We provide an exclusive range of commercial awnings that can be seen in retail business, restaurant chains and shopping center. Available in a wide range of innovative designs and color combination, our awnings can be easily installed and are very durable. The complete range of commercial awnings include double side open awnings, outdoor canopy, permanent fix awnings, patio awnings, retractable awnings and more.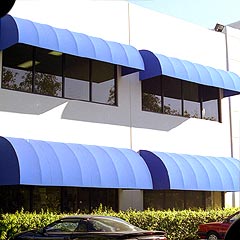 Outdoor Awnings
Item code : OA-002
This is a custom made awning. This awning has been made from 1 inch mild steel pipe which has been bend to round section. This is made from single side qouted with Spray Paint Structure.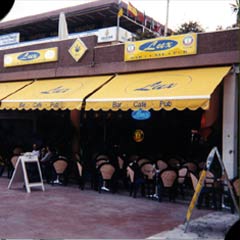 Patio Awnings
Item code : PA-003
Our patio awnings are beautifully designed keeping in mind the building exterior. We even custom design depending upon your tastes and choices. These patio awnings are made from durable, hard-wearing fabrics and every single one is UV tested and rated for sun protection.
Specifications
| | |
| --- | --- |
| Material: | Fibre Glass Transparent Sheet |
| Paint: | Spray Paint |
| Width: | 12ft |
| Use: | Gurudwara, Temples, Factories, Big Areas, Restaurants, Hotels and Commercial Buildings |
Backlight Awnings & Retractable Awnings
Item code : BA-004
We offer back light awnings that are made from specially designed fabrics, which allow the light to pass through and in turn glow the awning or give a lit-up effect at night. Our awnings are truly made to benefit you in a variety of ways, from lowering your energy bills to improving the building decor.
Specifications
| | |
| --- | --- |
| Types: | Automatic and Motorized |
| Projection: | 6 ft. to 15 ft. |
| Width: | Up-to 200 ft. |
| Arms: | Normal, Medium and Heavy Arms |
| Gear Box: | 1/2/3 and Nanak Jumbo Gear (For big awnings) |
| Frame: | Powder Coated and Anodized |
| Material | Philip's tube & Chokes |
| Fabrics: | Single Side Coated, Double Side Coated, Strips, PVC Fabric & Acrylic Fabric |
| Uses: | Commercial Places |
Vertical Awnings & Signage Board
Item code : VA-005
Our vertical awnings and signage boards offer a portable, curbside solution to the challenges of catching the eye of sidewalk traffic. These are available at cost effective rates, have high visibility and can be temporary or permanent in nature.
Specifications
| | |
| --- | --- |
| Material: | Steel Rope Wire (4 mm) |
| Printing: | Flex, Screen and Vinyl Printing |
| Use: | Commercial Places |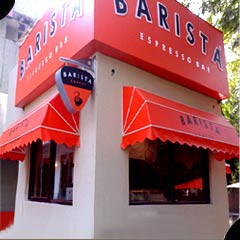 Window Awnings
Item code : WA-006
Our range of window awnings add beauty and elegance to any home. In addition, these awnings protect from harmful elements besides offering cool shade and cover furniture and flooring from harmful UV rays. Window awnings are a combination of both the beauty and functionality.
Specifications
Types:
Fixed and Folding
Projection:
Up-to 6ft. (For Fixed Awnings)
Up-to 10ft. (For Folding Awnings)
Width:
Up-to 50 ft.
Use:
Used in windows and balconies.
Double Side Retractable Awnings
Item code : DS-008
Offering durable side retractable awnings that are made using finest canvas cloth, vinyl or polyester fabric. These are sun resistant fabrics with a proven track record of durability and UV resistance. These awnings are available in a variety of colors and patterns to choose from.
Copyright 2008-13, Miri Piri Sheds & Structures Pvt. Ltd, All Rights Reserved, Powered by Miri Piri Group