Outdoor Advertising Systems
Give your brand or shop a unique recognition with our impressive range of outdoor advertising. These advertisements are made of finest quality of material that are highly durable and weatherproof. All the advertisings are designed in close coordination with the our customer and are engraved with quality ink that provide years of ultimate clarity. The outdoor advertising offered by us includes Glow Sign Board, Steel Letter Board, Neon sign Board, Vinyl Signage Board, Digital Glow Sign Board and more.

Advertising Tents
Lead your business and profession to the summit of success through our durable and appealing advertising tents, which imprint an everlasting image on the mind of viewers with their printed name and logo. Beautified with eye pleasing color combination and modern patterns, our advertising tents can be easily installed and dismantled. Our range comprises of display tents, promotional canopies, promotional tents and many more.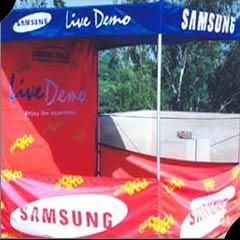 Advertisement Canopies
Item code : AC-001
We offer an exclusive range of Advertising Canopies that are designed to grab the attention of on lookers. These canopies are made from quality fabric and are completely weather resistant. Our range of Advertising Canopies can be custom printed with either a heat cured silk screen process or full coverage digital printing.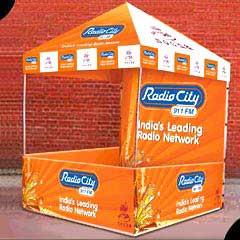 Promotional Canopies
Item code : PC-002
Give your brand an unique identity with high impact Promotional Canopies. The Promotional Canopies are the ideal way to advertise at show days, school gala days, sport events and other functions. Our range of Promotional Canopies have unique designs and are very attractive.
Display Tent
Item code : DT-003
Our range of Display Tents are ideal for creating brand awareness and advertising. These tents are easy to install and are highly durable. Our range of Display Tents can be engraved with logos and designs provided by our esteemed clients.
Road Show Demo Tent
Item code : RS-004
The Road Show Demo Tents are the most economical way to advertise or promote your products. These tents are primarily used in exhibitions and road shows. Made from light weight, quality fabric these tents can be easily installed on the site.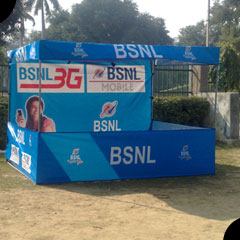 Advertising Tents
Item code : AC-005
In our industry, we are considered as one of the largest manufacturers of adverting tents. Our advertising tents are fabricated as per the need made us aware by clients. Contact us for more information
Conical Display Tents
Item code : PC-006
Conical display tents are also nowadays becoming very popular. We can also provide these conical display tents as per need produced by clients. You can contact us for more information about conical display tents.
Demo Tents
Item code : AC-007
Demo Tents offered by us are best products ever offered by anyone else. These create greater show-off to the products. We can fully customize these demo tents on specification provide by clients.
Hut Shape Tent
Item code : PC-008
The exhibited hut shape tent is also becoming very popular due to their modish design. Hut shape tent attracts onlooker as well. Our hut shape tents are supplied to a number of companies.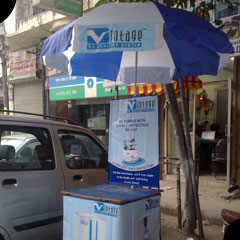 Promo Table Canopy
Item code : AC-009
The offered promo table canopy is also a modish way to create show-off for product or services. We can provide a customized range of promo table canopy at reliable rates.
Promotional Canopies
Item code : PC-010
We are also providing a complete range of promotional canopies. Canopies are widely sourced by a number of corporate across the country. You can contact us for finding a customized range of promotions canopies.
Promotional Tents
Item code : AC-011
Our promotional tents are available in multiple options. Also, we can fully customize these promotional tents as per industry specific requirements produced by you.
Road Show Canopies
Item code : PC-012
Contact us for finding a quality range of road show canopies. These are made using high quality materials which we procure from reliable vendors in the country. Contact us for more information.