Residential Awnings
We offer the best quality Awnings at the most competitive rates for all your indoor and outdoor needs. These Awnings are specially designed to enhance the elegance, charm and value of any home. Made with immaculate attention to every detail, our Awnings are easy to install and require minimum maintenance. The broad range of Awnings offered by us include Terrace Awnings, Bull Nose Awnings, Window Awnings, Drop Arm Awnings, Fixed Awnings and Component.
Retractable & Fixed
Manual & Motorized
Waterproof & Fire Retardant
Double Side Coated & Single Side Coated
Plain Fabric & Stripes Fabric
PVC Fabric & Acrylic Fabric
Imported & Indian Fabric
Residential Awnings
Impart your contemporary villa an elegant and luxurious look with our adroitly designed residential awnings, which come in numerous fashionable patterns, enthralling style and soothing colors. Developed from the finest quality steel and fabric, these awnings are certain to last for a long period of time. We offer bullnose awnings, drop arm awnings, terrace awnings and many more.
Bullnose Awnings
Item code : BA-002
Besides Vista and Max Awnings, Guru Nanak is the only company that manufactures Bullnose awnings. Our quality awnings are designed to even withstand adverse weather conditions.
Specifications
| | |
| --- | --- |
| Types: | Fixed and Folding |
| Projection: | 5ft. |
| Projection: | 5ft. |
| Width: | 12ft. |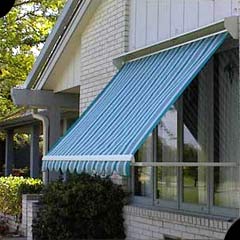 Drop Arm Awnings
Item code : DA-004
Our drop arm awnings are the simplest form of awnings. These are ideal to fit over doors and windows. Our drop arm awnings can withstand high tolerance from wind and weather.
Fixed Awnings
Item code : FA-005
We offer Fixed Awnings that are custom fit for window or door openings. All of them are manufactured with welded powder coated steel frames and weather resistant durable fabrics. These are available in various patterns and colors.
Specifications
Types:
Permanent Fix
Projection:
10ft. (Without Pillar)
500ft. or more (With Pillar)
Width:
Up-to 200ft.
Raw Materials:
Mild Steel Metal (Spray Painted or Brush Painted)
Uses:
With Fixed Glasses
Terrace Awnings
Item code : TA-006
We offer original, beautiful and practical solutions to make your terrace delightful. Our products have smooth fabrics with lines, ornamental finish and complete protection.
Specifications
| | |
| --- | --- |
| Types: | Automatic and Motorized |
| Projection: | 6 ft. to 15 ft. |
| Width: | Up-to 200 ft. |
| Arms: | Normal, Medium and Heavy Arms |
| Gears: | 1/2/3 and Nanak Jumbo Gear (For bigawnings) |
| Frame: | Powder Coated and Anodized |
| Fabrics: | Single Side Coated, Double Side Coated,Strips, PVC Fabric & Acrylic Fabric |
| Use: | Residence, Hotels, Farmhouses, Shop Fronts, Commercial Places etc. |
Sun Shades
Item code : SS-007
We offer perfect protection for all outdoor areas. Our sun shades help in protecting doorways, pathways, stairs and windows from the sun and weather. With an unlimited range of styles and designs, these shades are ideal for domestic and commercial properties.
Copyright 2008-13, Miri Piri Sheds & Structures Pvt. Ltd, All Rights Reserved, Powered by Miri Piri Group