Canopies Shades
We offer the best quality Awnings at the most competitive rates for all your indoor and outdoor needs. These Awnings are specially designed to enhance the elegance, charm and value of any home. Made with immaculate attention to every detail, our Awnings are easy to install and require minimum maintenance. The broad range of Awnings offered by us include Terrace Awnings, Bull Nose Awnings, Window Awnings, Drop Arm Awnings, Fixed Awnings and Component.
Retractable & Fixed
Manual & Motorized
Waterproof & Fire Retardant
Double Side Coated & Single Side Coated
Plain Fabric & Stripes Fabric
PVC Fabric & Acrylic Fabric
Imported & Indian Fabric

Canopies / Shades
Miri Piri Sheds & Structures Pvt. Ltd is pioneer in designing trendy, striking and best quality retractable canopies, which have won the heart of our clients with their captivating look. Our light weighted canopies can be easily installed and require minimum maintenance. They are made from water proof material in countless designs, colors and finishing. We develop window canopies, canopies for windows, balcony canopies, outdoor canopies etc.
Balcony Canopies
Item code : BC-001
We manufacture various types of awnings with different choices of colors, textures and finishing. We provide awnings for windows, terraces, balconies, restaurants, farm houses etc. Our awning contains corrosion resistance material, which helps to retain the shining for several years even with minimum maintenance.
Window Canopies
Item code : WC-003
We offer window canopies with up and down movement guided by vertical channels. They are available in various dimensions to fit small or large windows.
Outdoor Canopies
Item code : OC-001
We use heavy duty materials for outdoor canopies that are known for their durability and designs. Our outdoor canopies are made only with the highest grade materials most suitable for complete protection against sun and rain. They are durable and easy to maintain.
Specifications
| | |
| --- | --- |
| Types: | Fixed and Folding (With and Without Frill) |
| Projection: | 2ft - 5ft |
| Width: | 5ft - 15ft |
| Fabrics: | Single Side Coated and Double Side Coated, Plain Strips, PVC |
| Uses: | Commercial Places |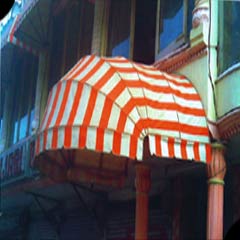 Awnings and Canopies
Item code : AC-007
We offer premium quality awnings and canopies in a wide variety of shapes and sizes, which makes design options virtually limitless. Their fabrics and frames are also available in a wide variety of styles and materials.
Retractable Canopies
Item code : RC-005
Our range of Retractable Canopies are the best way to shade your patio in an economical way. These canopies are easy to operate and covers up a large area based on the requirement of the clients. Our comprehensive range of Retractable Canopies are light in weight and highly durable.
Folding Shades
Item code : FS-006
Made of quality fabric, our Folding Shades are simple and elegant way of protection and privacy. These shades do not require the "stacking space" of a traditional folding shade and can easily be installed. Our range of folding shades are available in variety of attractive colors and designs at the most competitive prices.
Copyright 2008-13, Miri Piri Sheds & Structures Pvt. Ltd, All Rights Reserved, Powered by Miri Piri Group