Outdoor Advertising Systems
Give your brand or shop a unique recognition with our impressive range of outdoor advertising. These advertisements are made of finest quality of material that are highly durable and weatherproof. All the advertisings are designed in close coordination with the our customer and are engraved with quality ink that provide years of ultimate clarity. The outdoor advertising offered by us includes Glow Sign Board, Steel Letter Board, Neon sign Board, Vinyl Signage Board, Digital Glow Sign Board and more.
Window Rods
Unfurl a splendid array of window rods, which is used not only for hanging the curtains and draperies but also as a decorative item in your contemporary abodes and offices. Created in several enticing colors and designs, these window rods come with matching finials & brackets. Beautifying the look of windows, these rods cast a long lasting spell on the mind of beholders. We offer curtain rods, window drapery rods, rods for windows and many others.
Curtain Rods
Item code : RB-006
We offer curtain rods that are made of superior quality raw materials. Light in weight these rods are perfect for both residential and commercial buildings. They are also superior in finish and have smooth edges.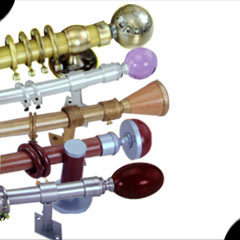 Drapery Rods

Item code : 002
We manufacture drapery rods which are made of premium quality raw material and are widely used for curtains. Light in weight and highly durable these drapery rods add a touch of elegance to the interiors and are highly in demand.
Copyright 2008-13, Miri Piri Sheds & Structures Pvt. Ltd, All Rights Reserved, Powered by Miri Piri Group